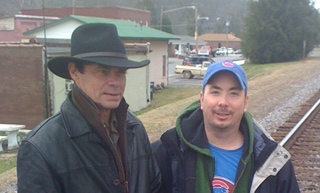 I was so happy to finally get Rich Hall on the podcast. We had to do this podcast without Aaron who was traveling. I have known Rich for around 20 years. I used to tour with Rich as his opening act, and we caught up with him while he was in Los Angeles to record a segment for The Set List for English television. Rich became famous as a stand-up comic in the 80′s and then was a regular on Fridays, Saturday Night Live and Not Necessarily the News where he invented Sniglets: words that should be in a dictionary but aren't. Millions of sold books later, Rich now resides both in Montana and London where he is a regular on many television shows. He has starred in many specials for the BBC and continues to sell out theaters and festivals around the world. If you get a chance to see him live, please don't miss it. He is truly one of the best. He took time out before racing to the airport to talk of his early stand-up breaks, moving to Montana and everything he has going on right now. Rich was so much fun that I am sure he will be back on soon. Great guest. Lots of fun. Enjoy.
Podcast: Play in new window | Download (Duration: 1:12:25 — 33.2MB)
Posted in Uncategorized by John Novotny on December 18th, 2012 at 1:49 am.